If you own a dog, you probably understand the importance of caring for them and ensuring they're comfortable. One way to make their mealtime more enjoyable is by using elevated dog bowls. These unique bowls are designed to lift your dog's food and water off the ground, offering advantages beyond convenience. In this article, we'll explore the benefits of using elevated dog bowls for dogs, including improved posture and a reduced risk of problems. Whether you're an owner or considering getting a dog, this article will explain why raised dog bowls are an excellent choice for your furry companion.
1. Portable Pet Feeder with Stainless Steel Folding Bowl: On-the-Go Dining for Dogs and Cats
Introducing the Portable Pet Feeder with a Folding Stainless Steel Bowl – the companion for owners on the go. This innovative solution combines convenience and durability, ensuring that your furry friend is well-fed no matter where your adventures take you.
Key Features:
Compact and travel-ready 
Explicitly designed for owners with a lifestyle, the Portable Pet Feeder is compact and easy to carry. It's a companion for picnics, hikes, road trips, or even just a day at the park.
Stainless Steel Bowl 
We believe your pet deserves nothing but the best. Which is why our feeder comes with a quality stainless steel bowl. Not only is it highly durable and resistant to scratches. It's also straightforward to clean. This ensures that your pet can hygienically enjoy their meals.
Foldable Design 
Our folding bowl features a designed mechanism that takes up minimal space when not in use. Unfold it when it's mealtime for your friend providing them with a sanitary place to eat regardless of your location.
Suitable for Cats and Dogs 
Whether you have a feline or an adored canine companion, this Portable Pet Feeder is suitable for pets of all sizes. It's a solution for owners who have multiple furry family members.
Clip on Lid for Added Security 
The feeder has a clip-on lid that ensures your pet's food remains fresh during travels. Say goodbye to spills and hello to hassle-feeding while you're on the move.
Easy to Keep Clean 
We understand that convenience is essential. That's why the stainless steel bowl can be easily removed and is dishwasher safe, making cleaning up a breeze when you're away from home.
Keep Your Pet Hydrated and Happy 
The Portable Pet Feeder isn't just limited to food – it can also serve as a water bowl, ensuring your pet stays hydrated during your adventures.
Make every outing comfortable and nourishing with the Portable Pet Feeder featuring a Folding Stainless Steel Bowl. Invest in this travel companion that prioritizes your pet well being. Place your order now. Give your friend the care and convenience they deserve no matter where life takes you!
2. Whisker Wonderland Ceramic Dog Food Bowl: Elevate Your Dog's Dining Experience
Introducing the Whisker Wonderland Ceramic Cat Food Bowl – a dining accessory for your feline. This cat food bowl combines elegance and practicality to ensure your cat's mealtime is an experience.
Stylish Design 
The Whisker Wonderland Ceramic Cat Food Bowl boasts a timeless and chic design that complements home decor. It's more than a food bowl; it's a piece of art for your cat's dining area.
Catering to Cats Comfort 
With your cat's comfort in mind, this bowl's wide shape prevents its whiskers from brushing against the sides. This eliminates any discomfort, guaranteeing every meal is enjoyable.
Lasting Ceramic Construction 
Crafted from high-quality ceramic, this cat food bowl exudes elegance and offers durability and scratch resistance. It's effortless to keep clean, ensuring your cat enjoys hygienic meals.
Convenient Maintenance 
We understand the importance of convenience. The Whisker Wonderland Ceramic Cat Food Bowl is designed for cleaning, making it a hassle-free addition to your cat's dining routine.
Optimal Portion Size 
The size of this bowl is ideal for serving portioned meals to your feline companion.
Maintaining a diet and ensuring that your cat doesn't overeat is essential.
Under the "Hydration Reminder" section, this versatile ceramic bowl can serve as a food and water bowl. It helps remind your cat to drink water, keeping them hydrated and supporting their well-being.
Elevate your cat's mealtime experience by adding the Whisker Wonderland Ceramic Cat Food Bowl to their dining routine. By prioritizing their comfort and enjoyment during meals, this elegant and functional accessory makes for a gift. Place your order now. Witness your feline friend stylishly relishing every meal!
3. Mobile and Unplugged Automatic Pet Water Dispenser: Hydration Made Effortless
Introducing the Mobile and Unplugged Automatic Pet Water Dispenser – the perfect solution to ensure your beloved pet stays hydrated even when you're on the move. This innovative water dispenser is designed for convenience, portability, and your pet's well-being.
Key Features:
On-the-Go Hydration
 With the Mobile and Unplugged Automatic Pet Water Dispenser, you can provide fresh water wherever your adventures take you. Whether you're on a road trip, hiking, or simply enjoying the outdoors, your pet's hydration is never compromised.
Smart Gravity Design 
 This dispenser features a clever gravity-fed design. When your pet licks the built-in bowl, it automatically releases a small amount of water, ensuring a continuous and controlled supply without spills or waste.
Large Water Capacity 
Despite its compact size, this dispenser boasts a generous water capacity, making it perfect for extended trips or multi-pet households. Your pet will always have access to a sufficient supply of fresh water.
No Batteries or Electricity Needed 
 Enjoy the freedom of unplugged convenience. This water dispenser operates without batteries or electricity, relying solely on gravity. It's a sustainable and reliable solution for your pet's hydration needs.
Easy to Clean 
We understand that convenience matters. The Mobile and Unplugged Automatic Pet Water Dispenser is designed for easy cleaning, ensuring your pet enjoys safe and hygienic hydration wherever you go.
A Hydrated and Happy Pet 
 When your pet has access to clean and fresh water, they always stay hydrated, healthy, and happy. A well-hydrated pet is a cherished companion.
Upgrade your pet's hydration experience with the Mobile and Unplugged Automatic Pet Water Dispenser. Prioritize their well-being, convenience, and freedom during every outing. Order now and give your furry friend the gift of reliable and portable hydration!
4. Pet Double Basin Stainless Steel Bowl Set: Quality Dining for Your Furry Friends
Introducing the Pet Double Basin Stainless Steel Bowl Set – the dining solution for your furry friends. This versatile and sturdy set ensures your pets have an enjoyable mealtime experience.
Key Features:
Two Bowls for Versatility
The Pet Double Basin Stainless Steel Bowl Set comes with two quality stainless steel bowls, making it an ideal choice for owners with multiple pets. It offers both food and water bowls in one set.
Stainless Steel Durability
These bowls are crafted from steel, making them durable, resistant to scratches, and easy to clean. Your pets can enjoy hygienic meals with these lasting bowls.
Raised Design
The bowls feature a raised design that promotes posture for your pets during meals, reducing strain on their necks and shoulders. This ensures an enjoyable dining experience for them.
Anti Slip Base
Say goodbye to spills and messes. The bowls have a slip base that keeps them securely in place during mealtime. Your floors will stay clean, allowing your pets to dine confidently.
Easy to Clean
We understand the importance of convenience. Cleaning these bowls is a breeze, ensuring you can effortlessly maintain an environment for your pets.
The bowls in this set are made of steel. It can be easily removed and cleaned in the dishwasher. It's convenient on days when you need to clean up quickly.
Perfect Portion 
These bowls are the size for serving your pet's meals in portions. This helps them maintain a diet and prevents them from overheating.
Enhance your pet's mealtime with the Pet Double Basin Stainless Steel Bowl Set. It's all about their comfort, convenience, and enjoyment while they dine. Treat your friends to these long-lasting dining accessories today!
5. SmartPaws Automatic Pet Feeder 2.0: The Future of Pet Feeding
Introducing the SmartPaws Automatic Pet Feeder 2 – a solution to make sure your furry friend gets their meals even when you're not around. This innovative automatic pet feeder offers convenience and customization. Prioritizes your pet's well-being.
Key Features:
Tailored Feeding Schedule 
With the SmartPaws Automatic Pet Feeder 2, you can control your pet's feeding schedule. Create a plan with daily meals, ensuring your pet receives a consistent and balanced diet regardless of your daily routine.
Precise Portion Control 
Maintain your pet's weight by controlling their food portions. This feeder lets you dispense the amount of food, preventing overeating or underfeeding. You can trust that your pet's health is in your hands.
Smartphone Management 
Stay connected with your companion no matter where you are. Using your smartphone, conveniently schedule meals, dispense food at the time, and even record comforting messages for your friend. Rest assured that they will be well-fed and comforted during those days.
Personalized Voice Messages 
Your voice brings comfort and reassurance to your pet. Record a message that plays during mealtime, providing them with the presence of their human companion even when you're miles away.
Generous Food Capacity 
This pet feeder is designed with a food storage capacity so you can be confident that your pet will stay well-fed when you're away for long periods. Travel without worries, knowing that your furry friend is cared for.
Ensuring Freshness 
The SmartPaws Automatic Pet Feeder 2 has an airtight container that keeps your pet's food fresh and flavorful. Say goodbye to stale kibble and say hello to every meal, which is an experience for your pet.
A Healthy and Happy Pet 
When mealtime becomes convenient and comforting for your pet, they do not thrive emotionally. A happy and healthy companion is genuinely cherished.
Enhance Your Pets Mealtime Experience with the SmartPaws Automatic Pet Feeder 2. Embrace the convenience of controlling it through your smartphone, the warmth of hearing your voice during mealtime, and the confidence of portion sizes. Make each meal a moment for your companion. Place an order now. Redefine how you take care of your friend!
6. Automatic Hanging Pet Water Feeder: Hydration Made Effortless
Introducing the Automatic Hanging Pet Water Feeder is a solution to ensure your beloved pet remains hydrated and revitalized all day. This innovative water dispenser is designed for convenience, reliability, and your pet's well-being.
Key Features:
Effortless Hydration 
With the Automatic Hanging Pet Water Feeder, your furry companion can easily access fresh water whenever they need it. Whether you're at home or away, this feeder ensures that your pet stays hydrated without requiring refills.
Gravity Driven Design 
Operating on a gravity-driven system, this dispenser automatically refills the built-in bowl as you drink from it. This means a water supply for your friend without needing batteries or electricity.
Generous Water Capacity 
Despite its size, this dispenser offers a water capacity, making it perfect for households with multiple pets or during extended periods when you can't supervise them closely. Rest assured that there will always be water available for your beloved companion.
No More Spills 
Bid farewell to spills and puddles! The hanging design of this feeder keeps it securely in place, preventing tipping and ensuring that your floors remain clean and dry at all times.
Convenient Cleaning 
We understand the importance of convenience in maintaining an environment for you and your pet. That's why we've ensured this feeder is easy to clean—keeping things hassle-free for you.
The Automatic Hanging Pet Water Feeder is designed to make it easy for you to keep your pet's hydration area clean so they can enjoy hygienic water on your busiest days.
A Happy and Hydrated Pet 
When your pet always has access to fresh water, they stay hydrated, healthy, and content. A hydrated pet is a companion.
Enhance your pet's hydration experience with the Automatic Hanging Pet Water Feeder. Put their comfort, convenience, and well-being first by providing them with an easily accessible source of hydration. Place your order now to ensure your cherished pet stays refreshed throughout the day!
7. Elegant Ceramic Pet Bowl with Oblique Mouth: Dine in Style
Introducing the Ceramic Pet Bowl with a slanted opening – the perfect blend of elegance and functionality for your beloved furry friend. This handcrafted ceramic pet bowl is designed to offer your pet a luxurious dining experience.
Key Features:
Timeless and Fashionable Design
The Ceramic Pet Bowl, with its opening, boasts a chic and timeless design that seamlessly complements any home decor. It's not a pet bowl; it's an actual work of art that enhances your pet's dining area.
Pet-Friendly Shape
Thoughtfully created with your pet's comfort in mind, the slanted mouth design allows access to food or water. This feature is particularly advantageous for pets with faces, making their mealtime more enjoyable and stress-free.
Sturdy Ceramic Build
Crafted from quality material, this pet bowl not only exudes elegance but also offers exceptional durability and scratch resistance. Its smooth surface ensures effortless cleaning, guaranteeing hygienic meals for your companion.
Convenient Maintenance
We understand the importance of convenience in caring for your pets. The Elegant Ceramic Pet Bowl is purposely designed for cleaning, adding hassle to your pet's dining routine.
Ideal Portion Size
This bowl is perfectly sized to accommodate portioned meals tailored to your pet's needs.
Ensure your pet stays healthy and avoid overfeeding with the Elegant Ceramic Pet Bowl with an Oblique Mouth. Give your friend a touch of luxury and functionality, making their dining experience comfortable and stylish. Order now to see them enjoy every meal with grace and sophistication!
8. Introduction to Elevated Dog Bowls
8.1. What are Elevated Dog Bowls?
Raised dog bowls, also called dog bowls, are feeding dishes that sit at a higher level than regular floor-level bowls. Their purpose is to elevate the feeding position of dogs and provide them with an ergonomic dining experience.
8.2. Why are they Beneficial for Large Dogs?
Large dogs often face challenges during mealtimes due to their size. Elevated dog bowls offer a range of benefits specifically designed for the needs of dogs. These benefits include improved digestion, enhanced comfort and posture, reduced risk of regurgitation, dental health advantages, prevention of dilatation-volvulus (GDV), convenient feeding process, prevention of obesity and overeating well, and care for aging dogs. 
9. Improved Digestion
9.1. Reduced Strain on the Neck and Throat
When large dogs eat from bowls placed on the floor, they often stretch their necks and lower their heads. This can cause strain on their neck and throat muscles, leading to discomfort, difficulty swallowing, and even regurgitation. By using dog bowls, you can eliminate this strain. 
9.2. Prevention of Gulping and Bloat
Large dogs tend to gulp down their food quickly, which can result in bloating or gastric torsion (bloat), a potentially life-threatening condition. Elevated dog bowls encourage dogs to eat soon, reducing the chances of gulping and minimizing the risk of bloating.
9.3. Promotion of Proper Digestion and Nutrient Absorption
When dogs eat with their bowls elevated, it helps align their esophagus with their stomach, leading to an efficient digestion process. The food can smoothly travel down without obstructions, ensuring digestion and optimal absorption of nutrients. This is especially beneficial for dogs who may face challenges related to digestion.
10. Enhanced Comfort and Posture
10.1. Reduced Neck and Back Strain
Using dog bowls reduces strain on the neck and back muscles of dogs. When they eat from floor-level bowls, they have to bend in a position, which can cause discomfort and strain. Elevated bowls bring the food closer to their mouths, allowing them to maintain a posture while eating. Doing it enhances their comfort during mealtime.
10.2. Promotion of a More Relaxed Feeding Position
Elevated dog bowls enable dogs to enjoy their meals in a position similar to how humans eat at dining tables. By elevating their bowls, you provide them with a natural feeding experience that promotes relaxation and enjoyment.
10.3. Prevention of Joint and Muscle Pain
As large dogs age, they may develop joint issues or arthritis that can make it painful to bend down to eat from floor-level bowls. Using dog bowls can help alleviate the strain on their joints and muscles, decreasing the likelihood of pain and discomfort. Ensuring a feeding position can enhance your dog's overall well-being and improve their quality of life.
11. Reduced Risk of Regurgitation
11.1. Prevention of Regurgitation Due to Swallowing Air
Large dogs eat from bowls placed on the floor and often ingest air during their meals. This excessive intake of attitude can lead to regurgitation, causing discomfort and potential choking hazards. Elevated dog bowls facilitate swallowing, reducing the air swallowed and minimizing the chances of regurgitation.
11.2. Promotion of Smooth Swallowing Process
The raised position at which dogs eat from bowls allows for a natural and unobstructed swallowing process. This helps prevent food from getting lodged in the dog's esophagus or going down the way, reducing the risk of choking or respiratory issues.
11.3. Minimization of Acid Reflux
Acid reflux is a problem among dogs, significantly larger breeds. By lessening the strain on their esophagus and facilitating food passage into their stomachs, elevated dog bowls can help minimize instances of reflux. This can provide relief for dogs experiencing this condition.
12. Dental Health Benefits
12.1. Encouragement of Proper Chewing
When dogs eat from dog bowls, it naturally promotes thorough chewing of their food. This is beneficial for their health as it aids in the removal of plaque and tartar buildup on their teeth. By reducing the risk of issues like gum disease and tooth decay, elevated dog bowls contribute to maintaining oral hygiene.
12.2. Reduction in Dental Plaque and Tartar Buildup
The feeding position and proper chewing help mechanically remove dental plaque and tartar. This can significantly decrease the chances of diseases and unpleasant breath, ensuring your dog's oral health stays in good condition.
12.3. Improvement in Overall Oral Hygiene
Maintaining good dental hygiene is crucial for a dog's overall well-being. Using dog bowls encourages chewing habits while minimizing the accumulation of harmful bacteria in their mouth. This results in improved hygiene, lower risks of infections, and better overall health for your beloved furry companion.
13. Prevention of Gastric Dilatation-Volvulus (GDV)
13.1. Explanation of GDV and its Risks
Gastric Dilatation Volvulus (GDV), commonly known as bloat, is a condition that mainly affects breeds with deep chests. It can be life-threatening if not promptly addressed.
When the stomach expands and twists, it can cause a blockage in the blood supply and trap gas, leading to a condition called GDV. If left untreated, GDV can result in pain, difficulty breathing, and even death.
13.2. Elevated bowls as a Prevention Measure
While the exact cause of GDV is not entirely understood, certain factors, like eating from bowls placed on the floor, have been linked to an increased risk. Dog bowls can help prevent GDV by reducing the air swallowed during meals and promoting a relaxed feeding position that minimizes the chances of stomach twisting.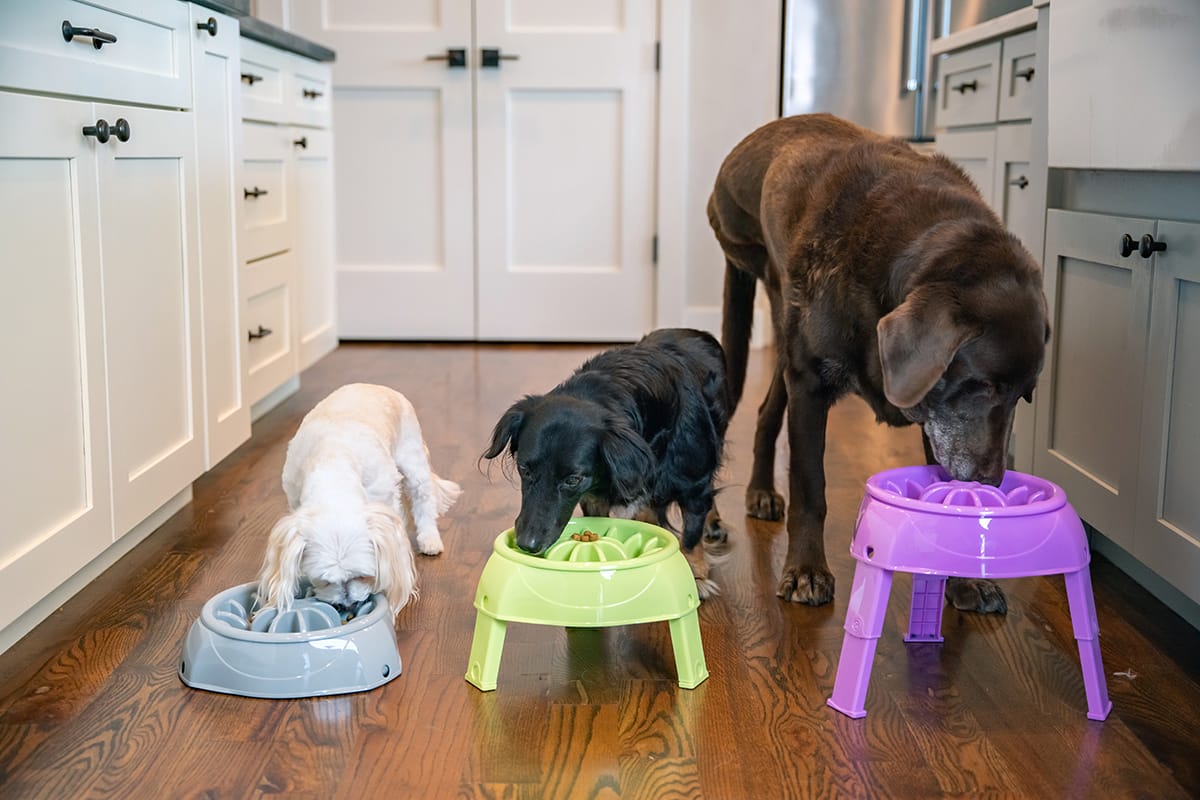 13.3. Importance of Consulting a Veterinarian
If you have concerns about GDV or specific requirements for your dog, it's always advisable to consult a veterinarian. They can offer personalized advice and guidance on whether elevated dog bowls are appropriate for your dog based on breed, size, and existing health conditions.
14. Convenient Feeding Process
14.1. Ease of Access for Large Dogs
Larger dogs often face difficulties reaching down to floor-level bowls comfortably, particularly if they have problems or limited mobility. Elevated dog bowls ensure access to food, enabling dogs to dine more comfortably with reduced strain on their bodies.
14.2. Less Spillage and Mess During Meals
The raised design of dog bowls helps keep the food within the bowl, minimizing spills and reducing the mess around the feeding area. This makes mealtime tidier and more manageable for you and your furry friend.
14.3. Simplified Cleaning and Maintenance
Cleaning bowls on the floor can be challenging, as food and water get spilled or splashed around. On the other hand, elevated dog bowls are much easier to clean due to their raised position. They also can accumulate dirt or debris from the floor, ensuring hygiene and a fresh feeding environment for your dog.

15. Preventing Obesity and Overeating
15.1. Portion Control with Raised Bowls
Using dog bowls can help you establish portion control during mealtime. By measuring out and serving the amount of food in a bowl, you can prevent overfeeding and maintain a healthy weight for your large dog. This is particularly important for breeds that are prone to obesity or require weight management.
15.2. Slower Eating Pace and Improved Satiety
Feeding from elevated dog bowls encourages dogs to eat at a rate. This slower eating speed allows them to feel full sooner, resulting in improved satisfaction and reduced chances of overeating. This can be advantageous for dogs that tend to devour their food.
15.3. Monitoring Food Intake for Weight Management
With dog bowls, tracking how much your dog is eating becomes simpler. By visualizing the portion size and observing their eating habits, you can make adjustments to ensure your dog maintains a healthy weight. This proactive approach to managing weight can help prevent health issues related to obesity and enhance well-being.
16. Aging Dog Care
16.1. Reduced Joint Stress for Senior Dogs
As dogs age, their joints become more prone to pain and stiffness, making bending down and eating from bowls on the floor difficult. Elevated dog bowls provide dogs with a comfortable feeding position that reduces stress on their joints, enabling them to enjoy their meals without unnecessary discomfort.
16.2. Maintaining Independence During Mealtime
Dogs may face mobility and independence challenges, making everyday tasks difficult. By using dog bowls, you support their freedom during mealtimes. They can eat without relying on assistance from their owners, promoting a sense of dignity and autonomy.
16.3. Enhanced Comfort for Dogs with Arthritis
Arthritis is a condition among aging dogs that causes inflammation, pain, and joint stiffness.
Using raised dog bowls can help dogs avoid bending down, which reduces strain on their joints. This added comfort during mealtime can significantly improve their quality of life.
17. Conclusion
In summary, using dog bowls brings advantages for larger dogs. These include improved digestion, enhanced comfort during meals, reduced risk of regurgitation, dental health benefits, GDV ( dilatation volvulus), convenient feeding process, prevention of obesity, and support for aging dogs. By providing your friend a feeding experience, you prioritize their well-being during mealtime while promoting a happier and healthier life.
18. Frequently Asked Questions
Are raised dog bowls suitable for all breeds of dogs?
Yes, raised dog bowls can work well for various dog breeds. However, it's essential to consider your dog's needs, including size, age, and any existing health conditions, before deciding on raised bowls. Consulting with a veterinarian can help determine if raised dog bowls are the choice for your companion.
Can puppies use raised dog bowls?
Puppies can also benefit from using raised dog bowls and breed puppies who may be more prone to issues like bloating. However, it's crucial to ensure that the height of the bowls is appropriate for their size and that the bowls are stable enough to prevent accidents or spills.
How often should I clean the raised dog bowl?
For hygiene maintenance, cleaning the dog bowl after every use is recommended. This ensures that any remnants of food particles or bacteria are removed effectively and provides a safe feeding environment for your pet. Furthermore, checking the bowl for any cracks or damages that could compromise its integrity is essential.
Can elevated bowls be used for water well?
Absolutely! Elevated bowls are suitable for both food and water. However, selecting a design specifically made for this purpose is crucial to prevent spills and ensure stability. Water bowls also have added benefits, such as reducing strain on the dog's neck and making drinking more comfortable.
Where can I buy dog bowls?
You can find elevated dog bowls at supply stores, both online and offline. Many reputable manufacturers offer a range of options to choose from. When shopping for a dog bowl, consider factors like size, stability, and material quality to find the perfect fit for your large pup's needs.